5.3 XB-Engine Hardware and Capabilities
Following the F-engine, the ALPACA digital back end includes a correlator and beamformer (XB-engine). The XB-engine is implemented using a GPU cluster of 25 high-performance computers (HPCs). GPU based digital back ends provide flexibility as individual hardware components can be easily replaced or upgraded for improved performance. Compared to FPGA design, the software used to implement the digital back end is more easily developed and maintained, and refactoring cycles are faster.
The selected HPC is the Tyan Transport HX TN83B8251, a 2U server chassis with a dual-socket motherboard architecture for 3rd Generation AMD EPYC (Zen 3 Milan) supporting (per processor) two dual-width, full-height PCIe 4.0x16 slots, and an additional half-height PCIe 4.0x16. Each server is populated with two AMD EPYC 7313 core processors, two NVIDIA A10 Tensor Core GPUs and 96 GB DDR4 RAM. To both receive Ethernet packets from the output of the F-engine over 100GbE and transmit processed data products to an distributed file system over InfiniBand each server has two Mellanox dual-port InfiniBand/EDR QSFP28 network interface cards (NICs). All 25 (+2 spare) servers, 50 (+4 spare) GPUs, 50 (+4 spare) NIC cards, and associated accessories have been purchased, with one system on hand at BYU in use for software development, and the remainder expected to be delivered to BYU by the time of this design review.
The above configuration specification with more detailed information is presented in the following table1:
| Feature | Description |
| --- | --- |
| Processors | 2 AMD EPYC 7313 Processor, 16 Cores 32 Threads, 3.0 GHz, 128 MB L3 Cache, 155 W |
| Memory | 96 GB DDR4-3200MHz EEC |
| Hard Drives | 2 TB SATA HDD 6.0 Gb/s 7200rpm |
| PCIe | Gen 4.02, 4 dual-width/full-height x16, 2 half-height x16 |
| GPU | 2 NVIDIA A10 Tensor Core |
| NIC | 2 Mellanox MCX556A-EDAT ConnectX-5 dual-port InfiniBand EDR |
| LAN Network | dual port 1 GbE LAN ports + 1 GbE dedicated IPMI |
| Power Supply | 2,200 W, 80 plus platinum, 1+1 redundant, 120VAC/25.2A, 200-240VAC/12.6A |
| Height | 2U |
| Rack Mountable | yes |
| Drive Bays | 8 Hot-swap HDD/SSD SATA or NVMe |
The following two figures show two platform development servers rack mounted at BYU and an inside view of the server chassis showing the dual-socket CPU architecture and riser cards installed with GPUs and NICs.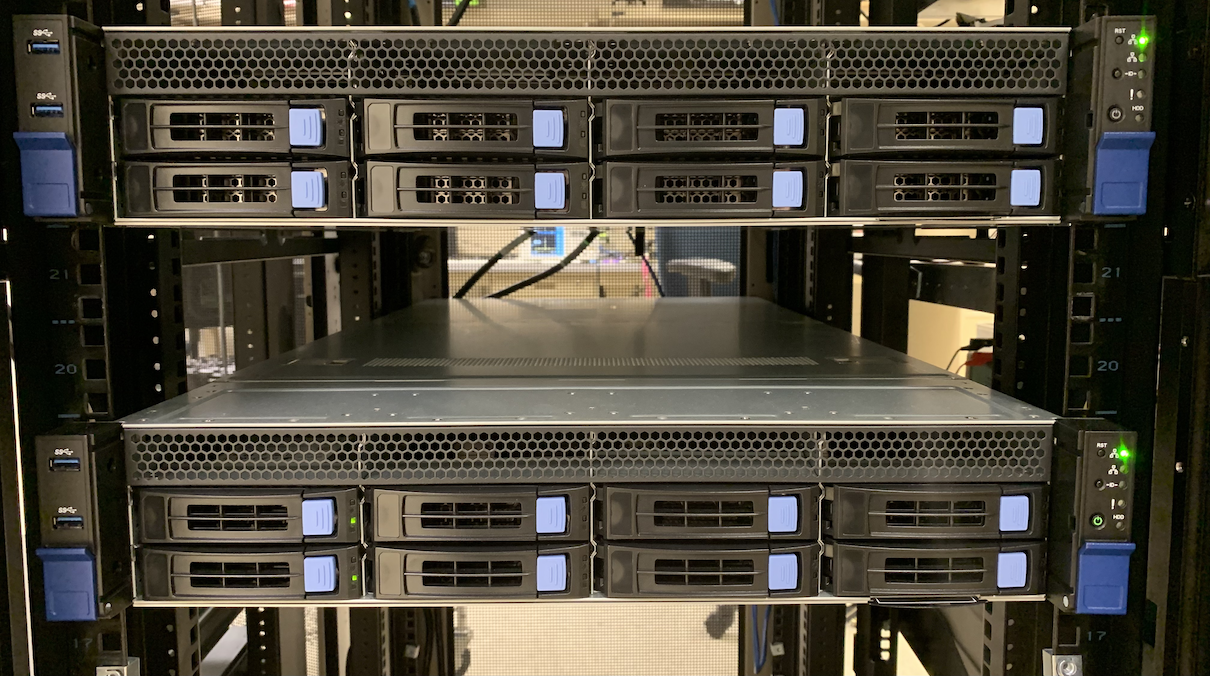 The NVIDIA A10 (GA102-890) Tensor Core GPU is a single-width, full-height PCIe 4.0 form factor GPU and is the successor to the T4 series GPUs. The A10 feature NVIDIAs latest design architecture Ampere. This model has 72 Streaming multiprocessors (SMs) each containing 128 CUDA cores, four third-generation Tensor Cores, a 256 KB register file, four texture units, and 128 KB shared memory. The memory subsystem is 12 32-bit memory controllers (384-bit bus), 512 KB of L2 cache with each memory controller (total of 6144 KB).
The Ampere SM architecture improves over previous architectures by implementing floating point operations in both datapaths of an SM partition. Previous chips only had an independent integer and floating point datapath. This is expected to improve processing and throughput capabilities. More significantly, this new SM architecture features unified shared memory, data data cache, and texture caching.
The Tensor Cores in these processors are specialized execution units designed specifically for vector/matrix operations that are a core compute function of the correlator and beamformer.
The following summarizes the above specifications for the A10 GPU:
| Feature | Description |
| --- | --- |
| Architecture | Ampere |
| SMs | 72 |
| CUDA cores | 9216 |
| Tensor cores | 288 |
| Memory Size | 24 GB GDDR6 |
| Memory Bus | 384-bit |
| Memory Bandwidth | 600 GB/s |
| L1 (shared memory) | 128 KB per SM |
| L2 Cache | 6 MB (512 KB per memory controller) |
| Bus Interface | PCIe 4.0 x16 |
| Form Factor | single-slot, full-height |
| Power Consumption | 150 W (max) |
The below figure shows the A10 GPU installed in a riser card along side the Mellanox dual-port EDR NIC.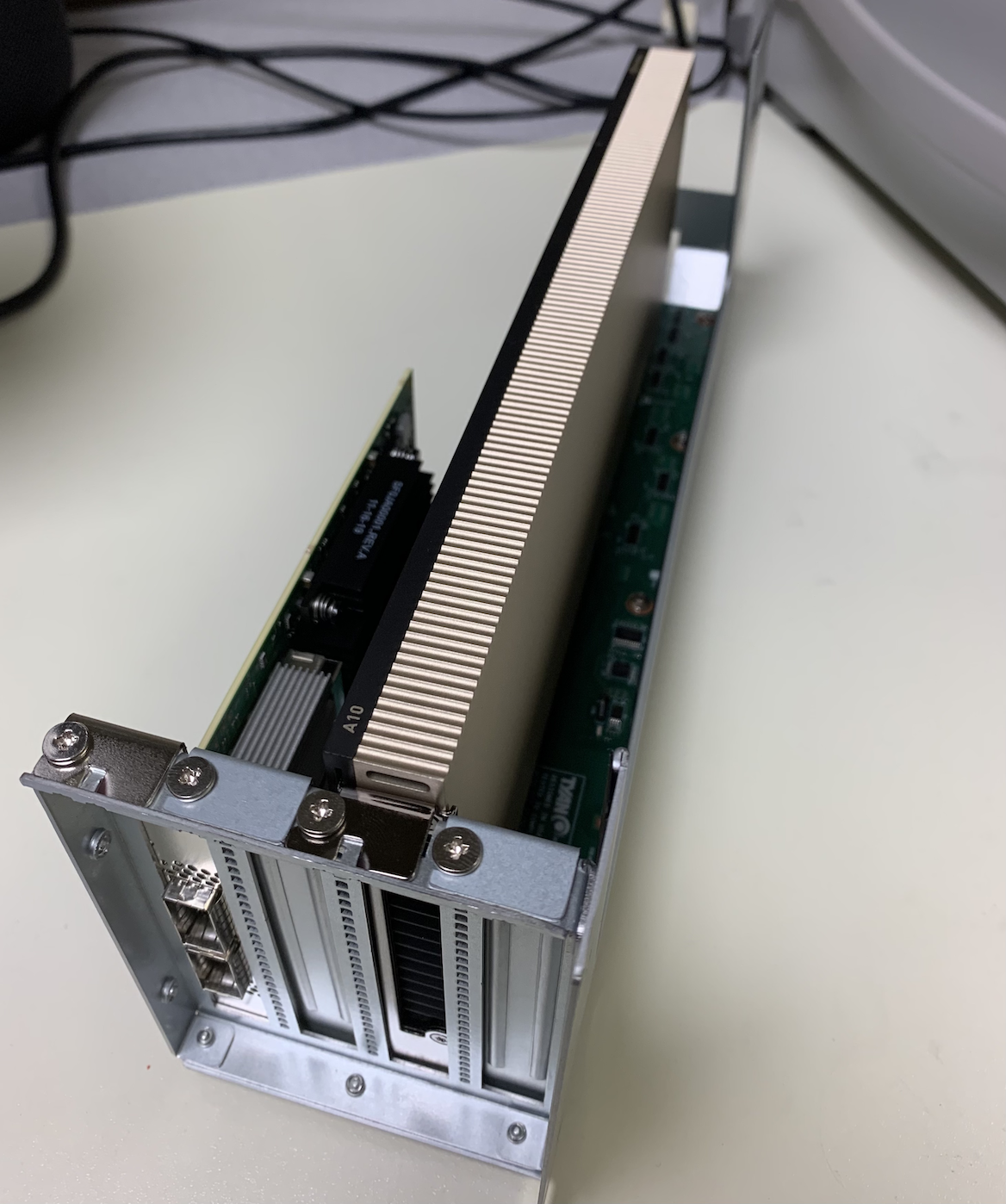 Footnotes
See Tyan vendor website for full server specifications ↩

The PCIe 4.0 standard was released in 2017 and improves on PCIe 3.0 by increasing the unidirectional transfer capacity to 256 Gbps. However, only recently has hardware at a competitive price become available. ↩